So we didn't really go on this trip so I could do yoga on the beach, but squeezing it in to our relaxing time in Eleuthera, Bahamas was not so bad, especially since it felt just so RIGHT! The warmth of the sun on your skin followed by that sweet salty breeze is the most wonderful experience. Especially when the beach is at low tide and the sand banks appear – yoga right in the middle of all that water, where you can walk for miles before it reaches your knees.
Mala pictured above is from Seed of Intention where you can use the code ASANAVANESSA10 for 10% off. I am also wearing HEAT Swimwear in the above photos. We had this idea that we would explore the entire island, and see every single beach. Well, we didn't see the whole island, no matter how deceivingly small it may seem – we would need months to discover every beach this beautiful island holds. We did manage to see the top beaches on the island, with the above photos being from Alabaster Bay – one of the highest rated beaches on the island. Gaulding Cay was also one of the nicest beaches we went to (pictured below), but only because it gave us an awesome first time snorkelling experience to the island. I would highly recommend making the treck out to this beach just for that alone.
Speaking of top rated beaches, one of the top in the world belongs to this tiny island – famed for its coral coloured sand. We had to see this beach. So we woke up early and made the hour long car journey to the docks to take a small ferry boat over to harbour island. We had to rent a golf cart once we got to this tiny little island to make it to the famous beach, but that was so much fun as it is how the locals ride around. Every golf cart to themselves riding around in the sun on narrow roads, where you have to remember to drive to the left! Feet in the sand below, can you see the hues of pink in this sand?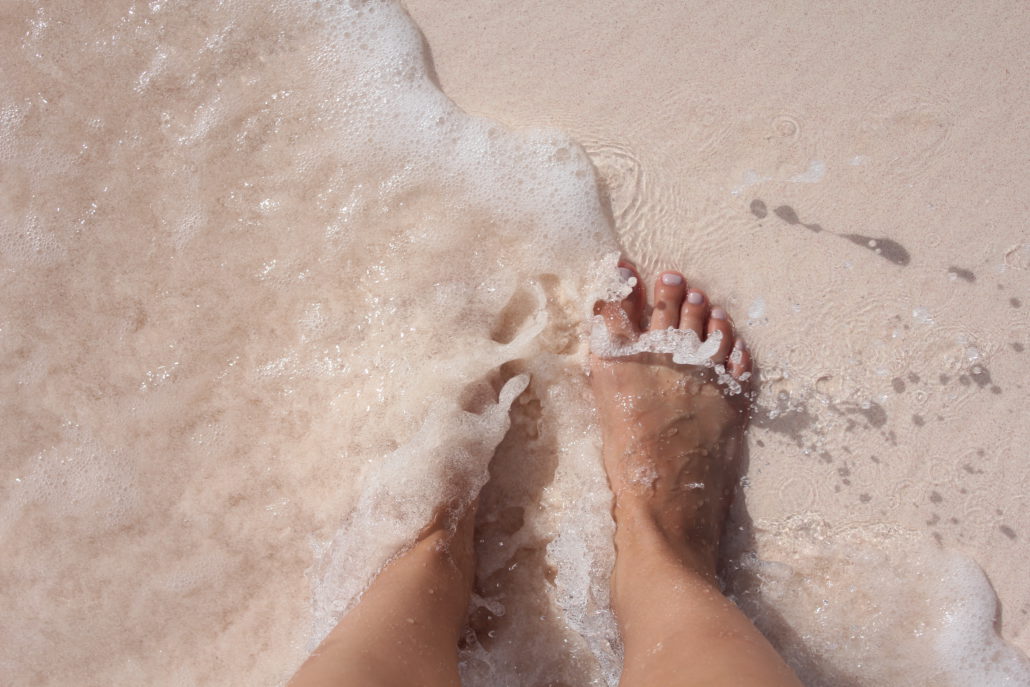 I was wearing all JVRNEY swimwear on this day. So comfortable and I loved the white top with the green palms and floral on it. Felt perfect for this setting and practicing on the softest sand ever. We even had some of the best conch on the whole island in a salad as we watched the sun start to set. It was perfect. Conch is not my favourite but the way it was prepared for this salad was divine.
We did a lot more beach exploring after this, of course. Beach after beach after beach… but I'm not complaining. memorable moments include eating food, snorkelling, tanning, floating, eating food, drinking, tanning, snorkelling, eating food. So ya know, it was awesome.
We visited the Marker bars by Schooner Cays in the first photo above. just miles and miles of sand banks in the middle of the ocean between Eleuthera and Exuma Sounds. We stayed close to the small town of James Cistern where I had to strike a pose on the dock (the locals loved that haha). And one of our personal favourite beaches in the last photo above called Ten Bay beach. Such an awesome spot where the water is like a big clear pool at high tide.
I had to do some underwater yoga at South Palmetto Beach as well. We saw a shark soon after this so that was the last photo taken before moving it on to the beach for the rest of the day!
What is amazing about the beaches of Eleuthera is how private they are. We rarely bumped into anyone on these beaches so if thats your thing then this place is for you. You have an entire beach to yourself every day – all day. It truly is magical and breathtaking place. Since it is so empty all the time and the roads are hard to drive without a 4×4, if you get trapped at a beach, then you have to wait and hope someone drives by 😀 That's why we always packed enough food and drinks in this AMAZING Sol & Selene bag that came so handy for this trip. We stuffed it full of everything we needed to last throughout the day – I am so happy we brought it.
Other than beaches we visited the Cliffs in James Cistern – just for a little adventuring. The pools behind me in the first photo below were full of crabs and sea urchins. It is also where the Atlantic ocean crashed against the edge of the cliffside. The second photo below was a rainy day where we visited Leon Levy Native Plant Preserve and learned about the various insects and plants of the Bahamas and Eleuthera. We also got stuck in the pouring rain but made it to this lovely tower within the park, so it wasnt so bad.
Last photo is one of my favourites. From the land of pineapples we had the juiciest little ones in Eleuthera. The most delicious pineapples live here and you need to sample these babies.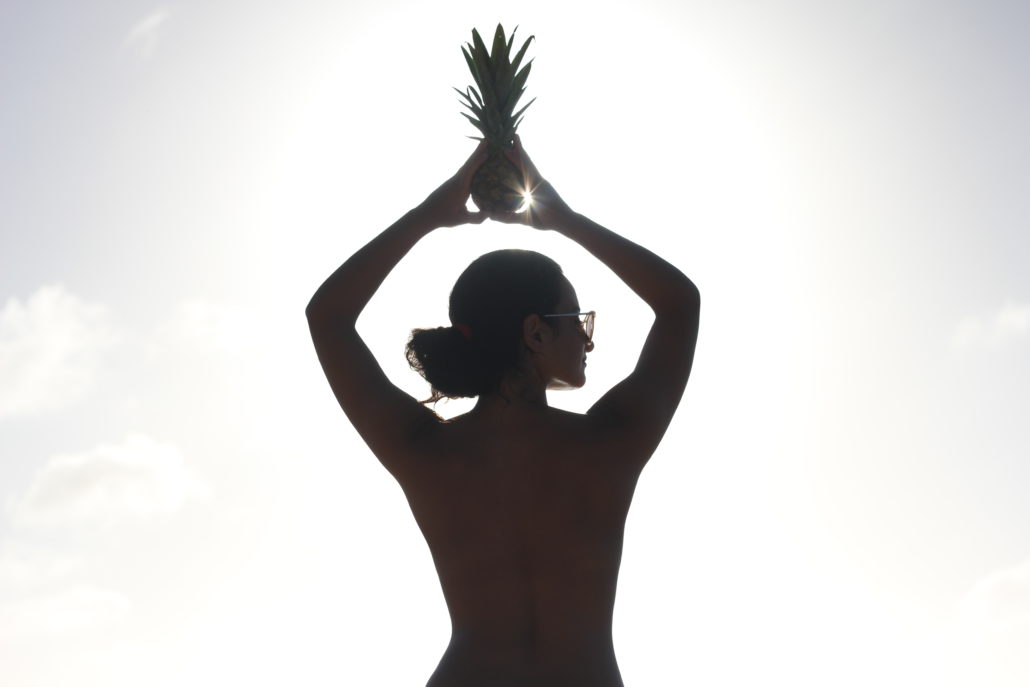 We had to visit Spanish wells as well, noted as one of the most beautiful beaches. As it was super beautiful but our taste had grown quite high after Harbour Island and Ten Bay beach – this one was beautiful, but very windy and full of larger bigger fish which we couldn't see because of murky water. That freaked me out a bit so not too much snorkelling happened. It is home to Lobster island though so we had to sample the local cuisine – SO YUMMY.
Of course I had to do some underwater yoga, taken at our most favourite beach – Lighthouse Point beach. I think if we had seen this beach from the beginning and not save dit to last, we probably would have just come here every day. WOW. It is so incredibly breathtaking. The sand is soft and pink, there is adventuring to be done with the hike up the the Lighthouse and around, and plenty of amazing snorkelling spots in deep water close to shore. this was by far my favourite spot on the entire island. You can see how clear of a pool it is below.
The white bikini pictured is from Bikini CN which I loved for cheeky tanning 😉 The top also felt like a rash guard so it was great for snorkelling. We spent the entire day from morning to night on this beach, we came prepared to do just that because this one was the hardest road to drive to get to this beach. Super bumpy for 20 minutes on a slow ride in. But so worth it.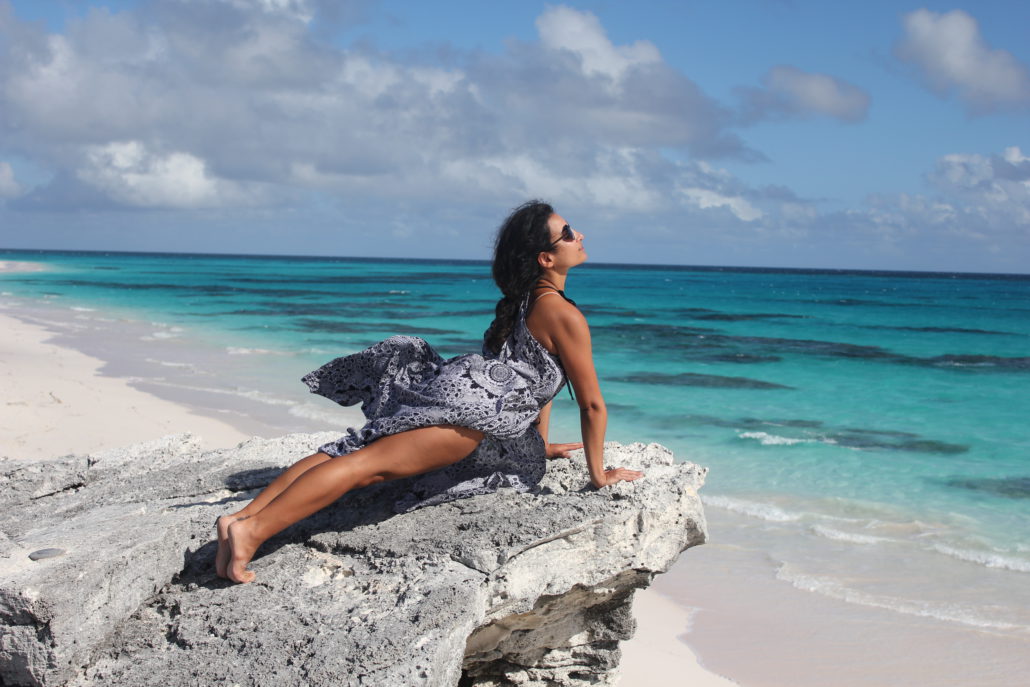 Thank you Lighthouse beach for a last magical perfect day in Eleuthera. I had my mermaid moment here too, pictured above in my fave dress from Red Carter Swim. You can see how crystal blue the water is – I will remember this moment forever. 
Extra special thank you to my main muffin photographer for documenting some of my yoga experience on the island. love chu!
https://www.asanavanessa.com/wp-content/uploads/2016/12/IMG_3718-e1482966400765.jpg
1085
1829
vanessa
https://www.asanavanessa.com/wp-content/uploads/2021/01/asanavanessa-logo-white-horiz-1.svg
vanessa
2016-12-28 18:03:10
2016-12-28 18:08:55
Eleuthera 2016 – Surreal Beach Yoga Experience