As January comes to an end I realize I didn't do much of a recap to the last year, so here is a mini one featuring one of my fave Canadian brands My Inner Fire! I am so proud to be an Inner Fire luminary and have the chance to rock the coolest prints around Toronto! We usually head out for a full day long boarding, walking , picnicking and of course some yoga snap and these leggings withstand the entire day or working out. Here are some of my favourite moments: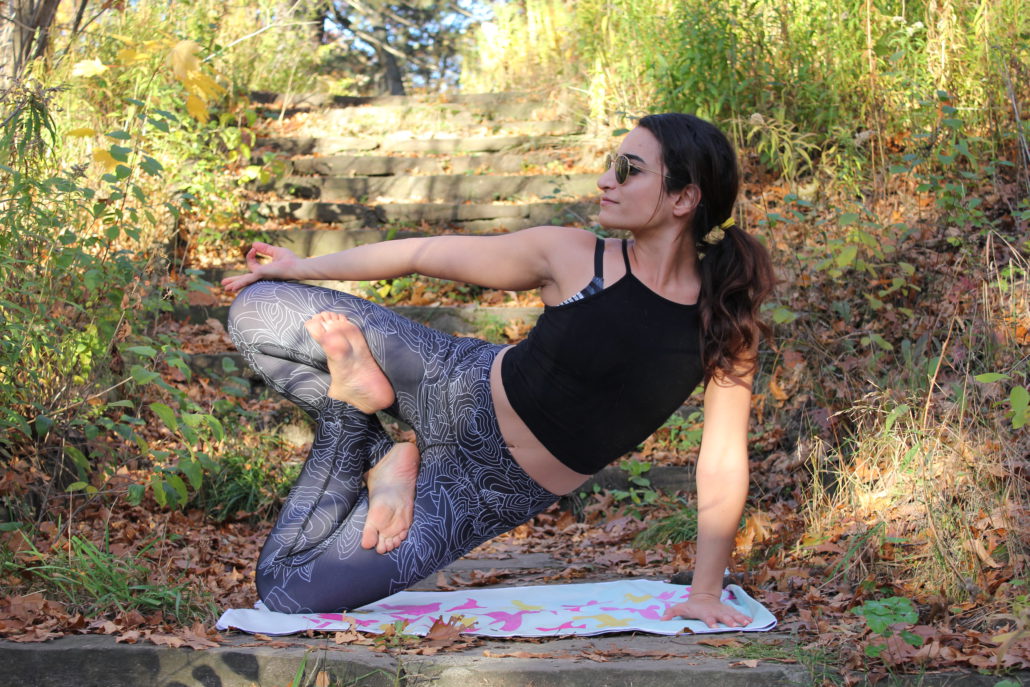 This was when I first got my Nocturne Inner Fire leggings! I LOVED all the new collection prints but had to have these Nocturne leggings first because they are totally my style. We took it to one of the most beautiful places in Toronto, High Park.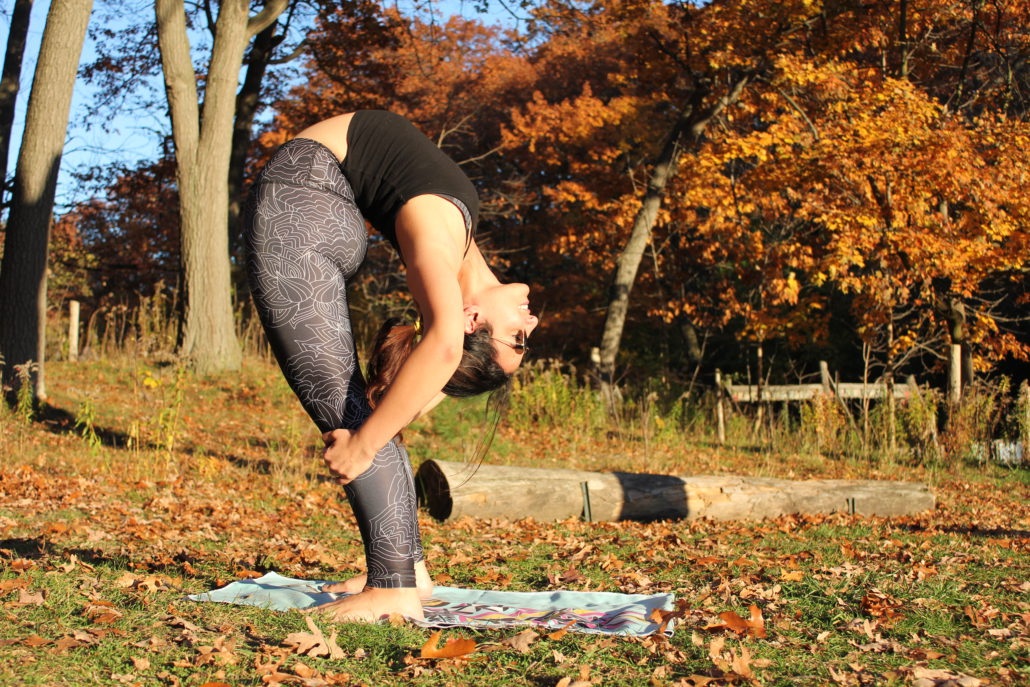 Not only was I wearing comfy leggings but this day was also a breakthrough day for me! I love to backbend and contort my body and I have been trying to reach my hands up further to my knees in this standing backbend shown above. This day was miraculous, not only did I reach my legs but I walked my hands all the way up to my knees and held it comfortably. I realized after that I was even doing this on a downward slope! Truly a cool moment for me! For all of you wondering how to get into this pose, it requires a lot of warming up. I usually warm up with a ton of pigeon variations and also I have to stretch my shoulders for a good 10 minutes.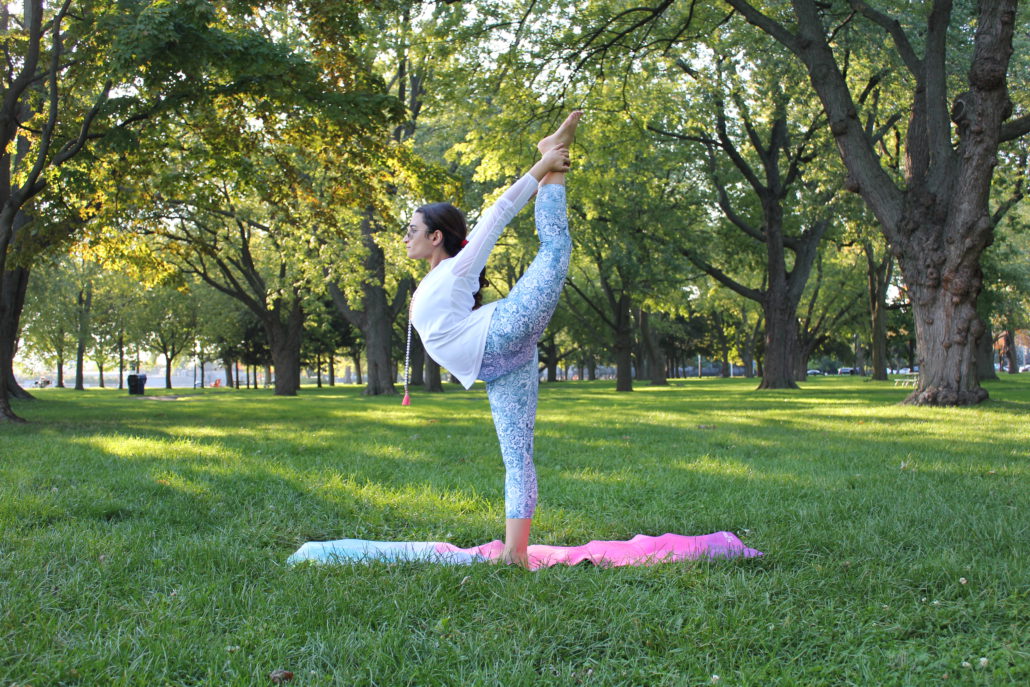 I get so many compliments on these Bella leggings, they remind me of a warm Greek day with white buildings and this print on the tiled grounds. This was also a breakthrough day for me as it was the furthest I had ever gotten my splits in a dancer pose! It felt like a moment you understand a pose and what was holding you back at first. For me, I wasn't able to reach my hands far down enough my shin to really lift my leg. I also focused more on backbends and less on my hamstring stretches. Now that I have incorporated splits into my practice, this pose feels much more natural to me and I'm proud to say I can do a full split now!!
On a sunny day like below we couldn't resist long boarding around the city. I brought my travel Yogo mat (just incase yoga pics happened hehe) and of course they did when we arrived to this point on the lakeshore. It looks like you can see for miles, but it's only a lake and it is pretty smoggy too!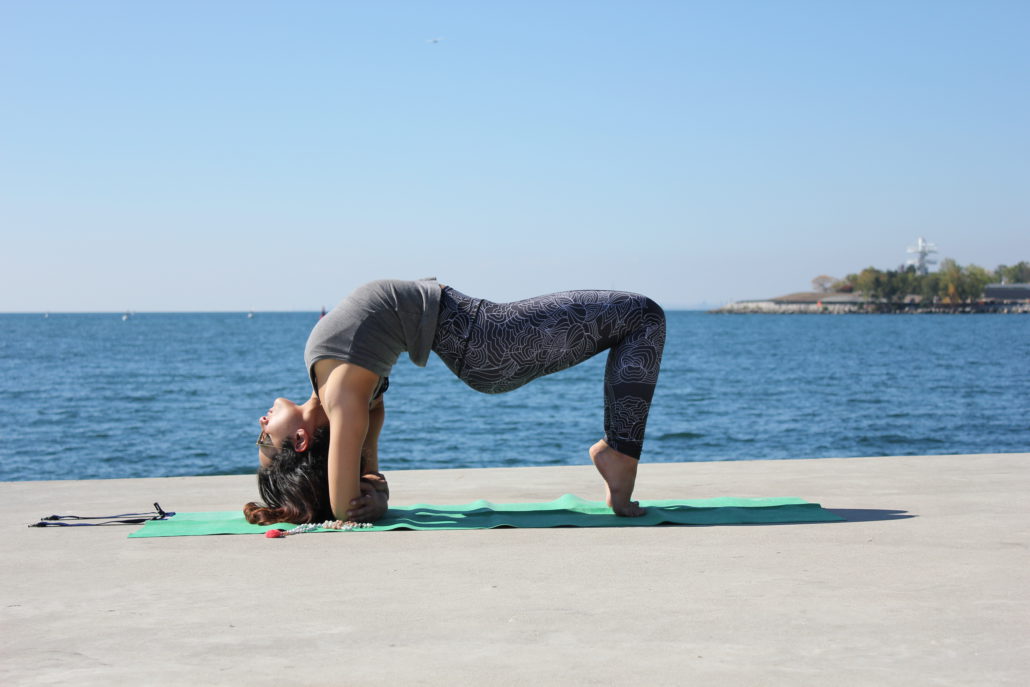 I tried this variation of a backbend called Alien Backbend, where you drop your butt a bit lower, almost creating a chair like shape. I really wanted to jazz it up by doing it in a forearm wheel, but also hugging both my hands to my elbows once I was in a good position. It looks and felt great!
Classic Upward Bow pose below! I will admit I did tip over just after this, you can kind of tell I am leaning a bit too far back but I swear I held it straight for a a few breaths before!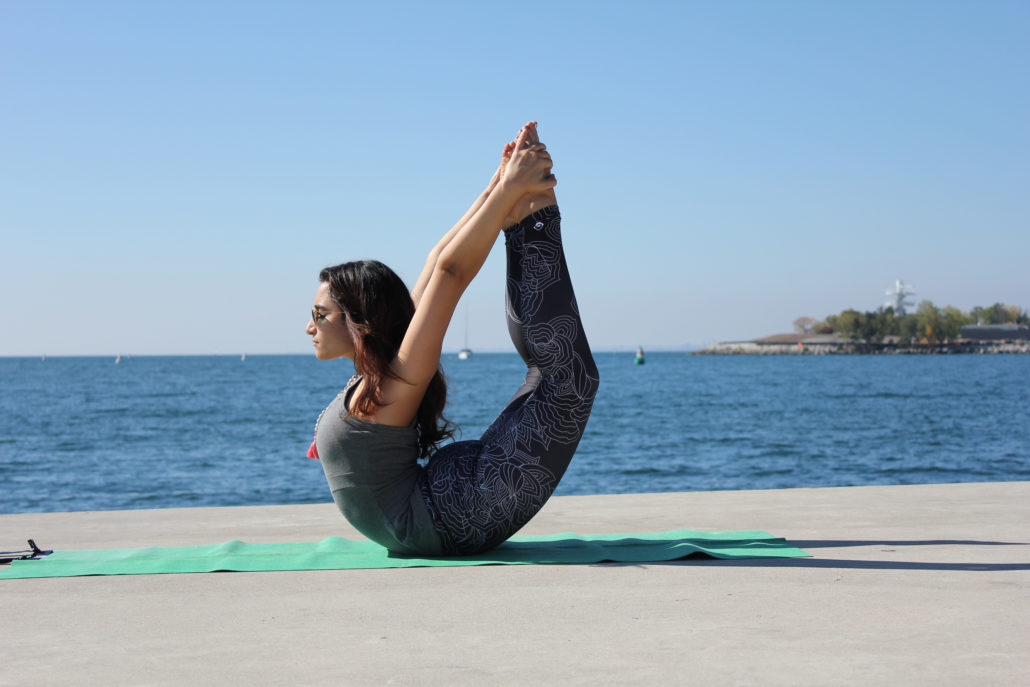 We were headed home from a morning at the beach and we walked by this abandoned old train track. I had always wanted to try this pose where you extend your whole body over the track and do somewhat of a plank from one side to the other. I added a backbend of course and plopped my foot onto my head.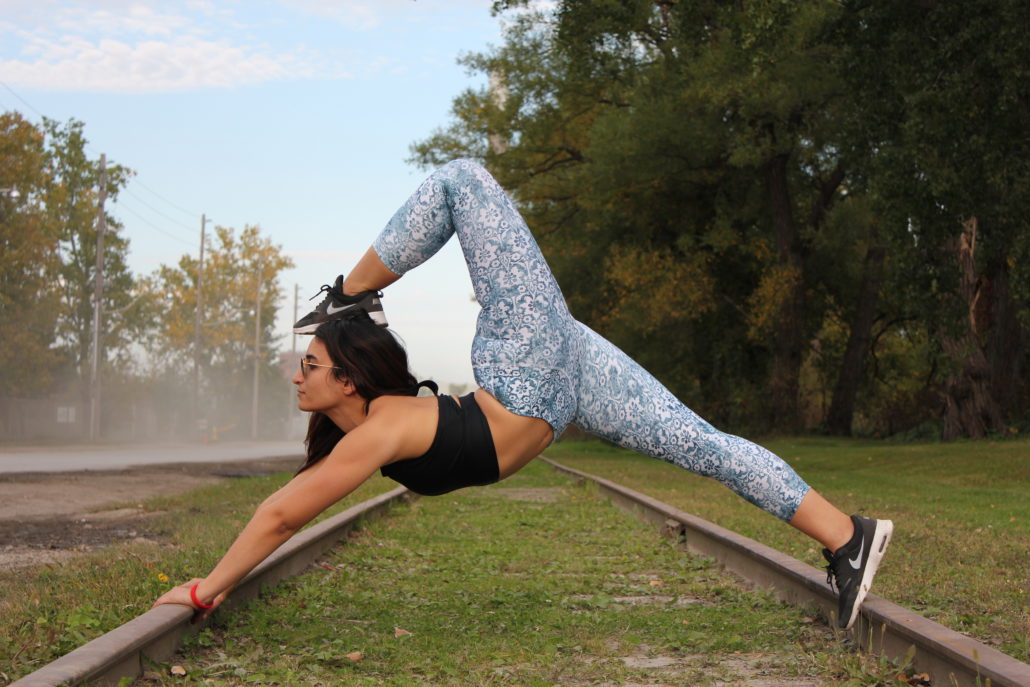 But then the funniest thing happened… these guys drove by and were so impressed they paid me to be in their music video! I seriously asked them a million times – "Are you sure? I do yoga… it's a hip hop video right? And you want yoga?" 😛 – and they kept saying yes! So I did a mini flow on the hood of their car. HAHAHHA
This was possibly the best part of my yoga journey so far. getting to backbend on the hood of a rappers car for their video. Now I don't know if the video ever made it out, and I honestly can't remember their names. And who knows if they even liked the yoga hood girl in the end anyway, but I still LOVED this moment and will remember it for ever. It's amazing how yoga has opened up so many doors of opportunity! Can't wait for more!!
Check out @myinnerfire on Instagram – and you can use the code VanessaB for a discount at myinnerfire.com or on Amazon
https://www.asanavanessa.com/wp-content/uploads/2017/01/IMG_1054-e1485530200584.jpg
1266
2162
vanessa
https://www.asanavanessa.com/wp-content/uploads/2021/01/asanavanessa-logo-white-horiz-1.svg
vanessa
2017-01-27 10:13:22
2017-11-02 16:09:38
My Inner Fire around Toronto!