So this is my favourite day of the month, when that purple little Yogi Surprise box makes it to my door! It's also Arlo's fave time – he is always so curious and he will wake up from any nap to come play with whatever surprise came. This month's box is full of positive and inspiring vibes to uplift the mood.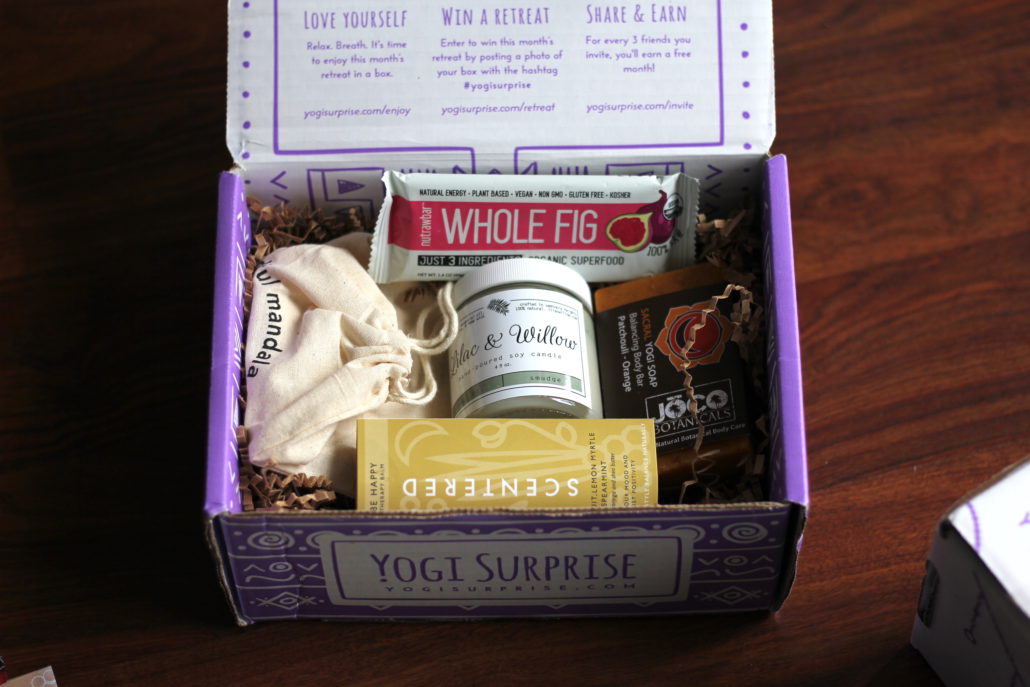 I noticed right away the Lilac & Willow Soy Candle and knew that it was going to be a good, relaxing box. You can also catch me at the candle aisle of any home store so I was in love immediately. I haven't seen anything like this candle, it had floral petals and sage sticking out of the candle amongst other things, like a pretty little candle bouquet. It acts as a pretty scented candle but also helps cleanse the energies of any room as a purifying smudge. With hints of Cedar, it smells so heavenly – just as it looks. Mina had to have a smell too. Warning: today's post features extra, too much, a lot of cats photobombing – they just wouldn't leave me alone 😛 (Not Complaining)
Speaking of lovely scents and clingy cats, the Scentered "Be Happy" citrusy, refreshing body balm was so nice to see. I will definitely be keeping this one in my backpack for before classes. I put this on in the morning and I was smelling the pink grapefruit smell all day, how wonderful! I love the packaging too – Arlo wouldn't let me take a peaceful picture of this one though, you can see he had to make his cameo!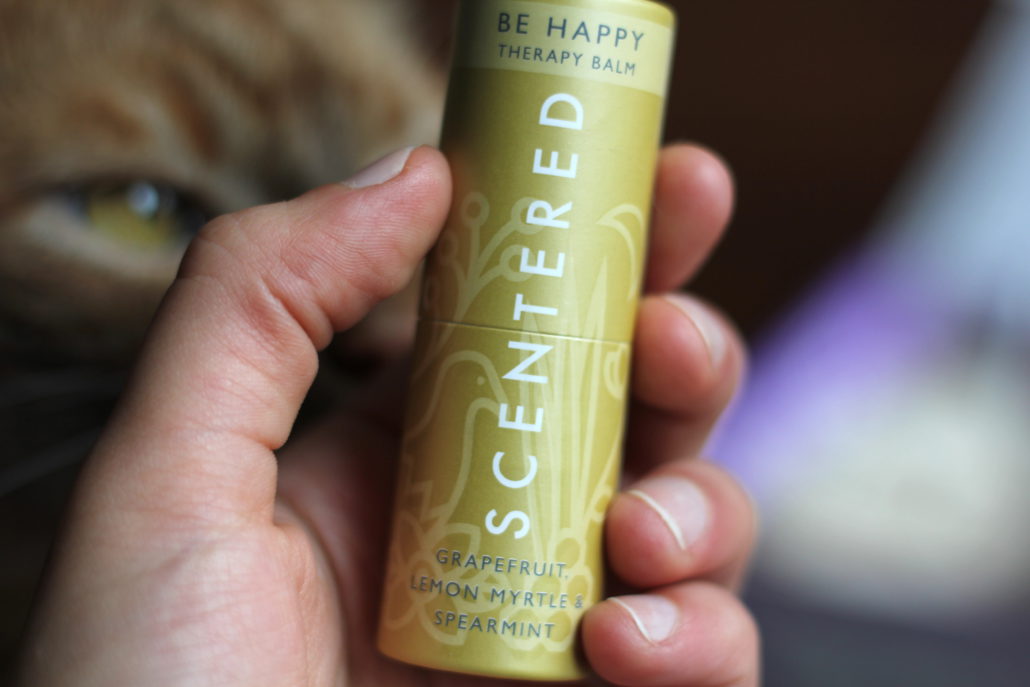 There was also a yummy post yoga snack waiting for me in the box, a Nutrawbar Whole Fig Bar. I will be saving this one for later but am super excited to try it out. There was also a Joco Botanical Yogi Chakra body bar. This one was a sacral chakra bar, which governs your sense of pleasure, vitality, and connection to others.
I also was greeted with some wonderful cards from Tree Free Greetings, which I can't wait to hand out to my friends.Each card has been printed on environmentally friendly paper made from materials like bamboo, hemp, bagasse, and consumer recycled papers. The designs on them are so pretty too!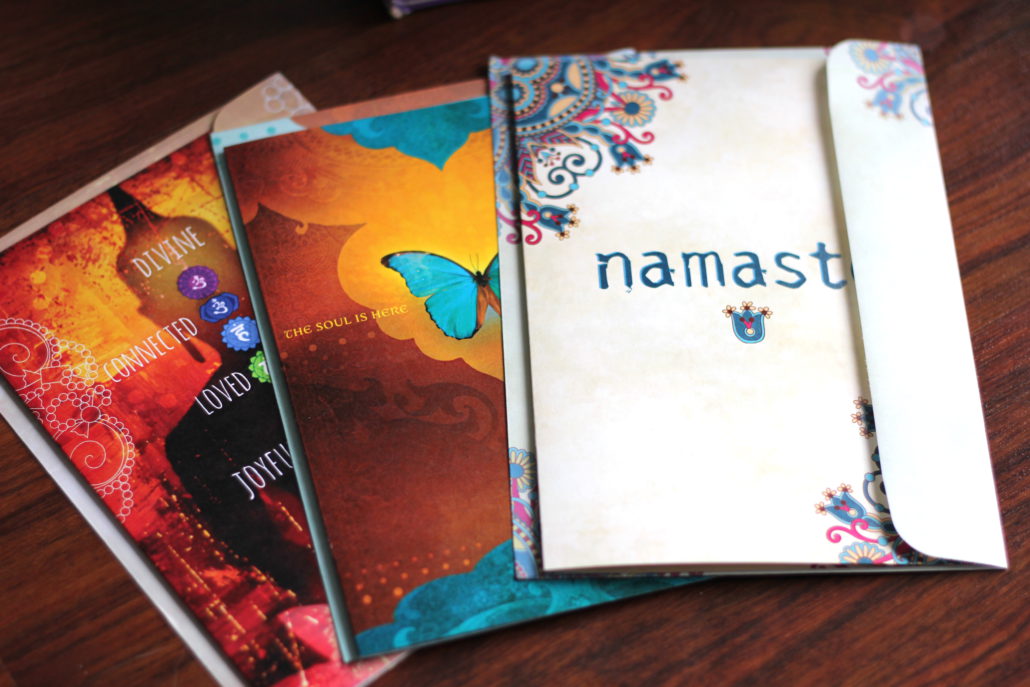 My most favourite from this whole box (apart from the candle, just because I love candles) is these Mindful mandala Cards. I know Adult colouring books have had a very viral take off in the last year, and I can't help but fall in love with these beautiful mandala designs. I get to colour them all in (ok, maybe I will share one or two), and even create my own at the end, how cute.
Moving on to the Yogi Surprise jewelry box, this month was a definite surprise. I have never seen anything like the mala that came in this box. It has a gorgeous silk tassel attached to the bottom and the colours were warm lovely hues of pinks and oranges. The matching bracelet is so pretty too. I love how there are so many details in it, the amount of beads, and types, and how you can wrap it around as a bracelet, or actually where it as a mini necklace too.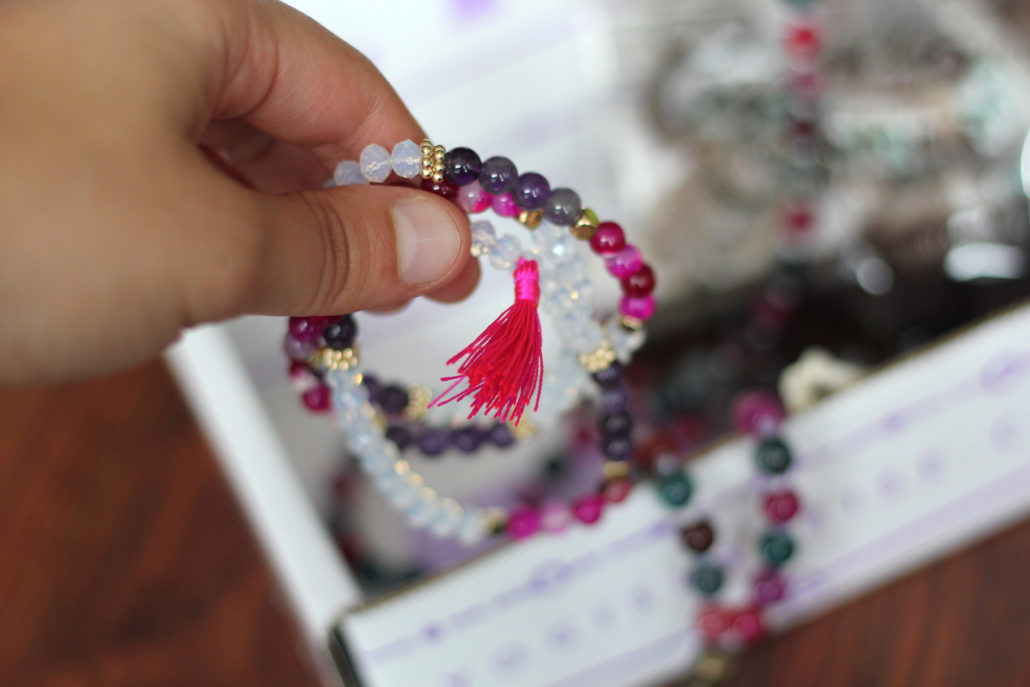 Arlo reeeeaaallly loved this one 😉
Want to give Yogi Surprise a try? Use the code YOGILOVE for a sweet discount off your first purchase!
Here's an Arlo booty. Enjoy.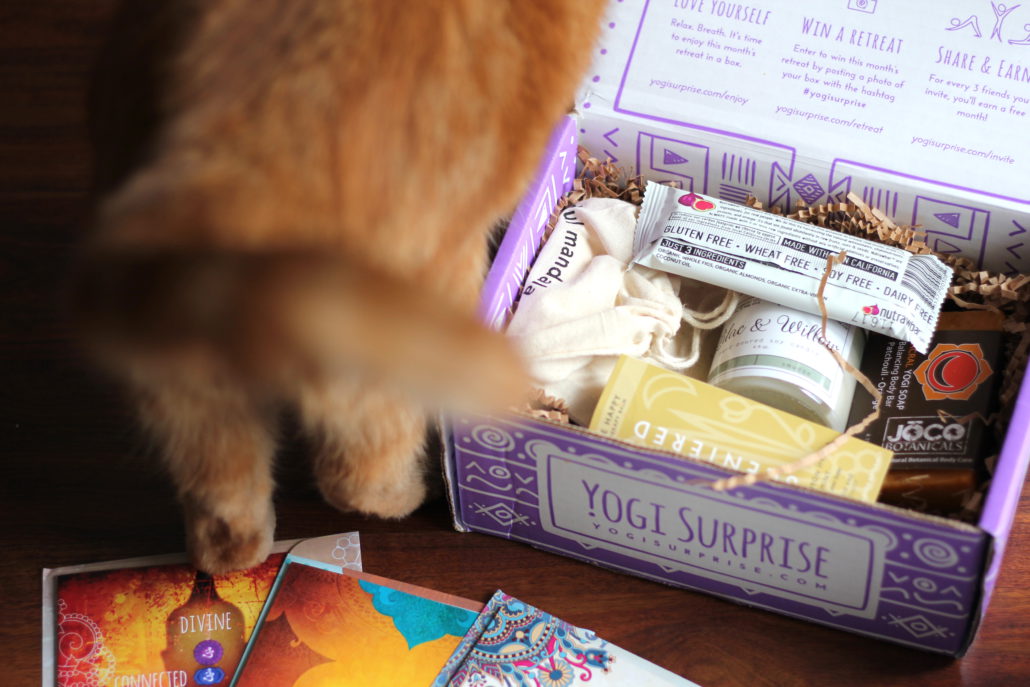 https://www.asanavanessa.com/wp-content/uploads/2017/05/IMG_9852-e1495838761372.jpg
1456
2184
vanessa
https://www.asanavanessa.com/wp-content/uploads/2021/01/asanavanessa-logo-white-horiz-1.svg
vanessa
2017-05-27 08:00:00
2017-11-02 16:09:16
May Yogi Surprise – Creative Divine Mother